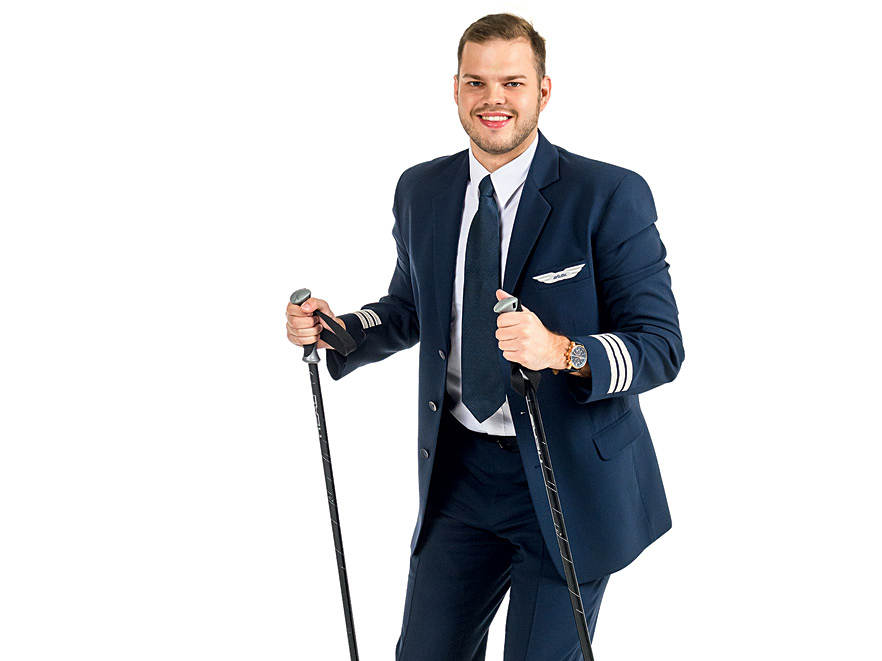 Baltic Outlook introduces you to some of the most important people at airBaltic – its flight crew members, who have some of the most interesting hobbies.
This time Ivars Puļķis (28) on the spotlight, airBaltic Pilot Academy graduate, flight instructor and first officer on the Airbus A220-300 aircraft.
HOBBY
When Ivars Puļķis was 11 years old, he took his first turn on skis at the Riekstukalns ski resort in Baldone, Latvia, which is just half an hour's drive from his hometown, Iecava. He remembers that he was very excited about the trip to the ski resort with family friends, because at the time no one in his own family skied. At first, skiing was very challenging and took some hard work. Ivars did not continue after that first time on the hill, but he later joined school trips to Riekstukalns and improved his skiing skills.
Then, the same family that introduced Ivars to skiing invited him along on a trip to Livigno in Italy. For the first time the Italian Alps took a lot of beating. But now, he goes on a trip to the Alps every year with his godparents and has explored ski resorts in France, Italy, and Switzerland.
After several trips to the Alps, ski resorts in Latvia are no longer a challenge. Now, the biggest challenge Ivars has is teaching his family to ski. Next year, he's planning a ski trip with his family to Finland. He chose Finland because it offers a wide variety of leisure activities, from saunas to snowmobile rides and reindeer safaris.
One thing Ivars really loves about skiing is the sense of freedom it provides, which clears the head and allows one to think. 'When you're skiing, you're on your own, even though there are lots of other people on the slopes. This hobby lets me go through a huge spectrum of feelings. When I ski down the hill at a higher speed, I need to overcome my fear, trust my abilities, and know my limits,' he says.
When asked about advice to first-time enthusiasts this winter, Ivars believes it's important to find the right person to accompany you – someone who can lead, inspire, and decrease your fear and sense of anxiety. Then, you just need to start and practise. Because the longer you think about something, the harder it is to do it.
HOW IT ALL BEGAN
'My interest in aviation goes back to my childhood,' Ivars says. 'Whenever I saw aircraft in the sky, I always waved to the planes and pilots.'
Ivars boarded an airplane for the first time at the age of 14, on a trip to Egypt. No one in his family was involved in aviation, so he eventually reached out to a pilot based in Iecava who had recently started working for airBaltic. When the time came, he decided to apply to the airBaltic Pilot Academy. That was in 2018.
Ivars started working after graduating from the academy in 2019. During the Covid-19 pandemic he was asked to join the team of instructors at the airBaltic Pilot Academy. He started flying again in 2021, and still continues to work as an instructor at the Pilot Academy. He has flown over 1000 hours since 2018.
Ivars says that he doesn't have a favourite destination or route when it comes to flying. Instead, it comes down to weather conditions: 'When the sun is shining and visibility is good on a flight over the Alps or other mountains, I feel extra special. Just like skiing, aviation is very dynamic – you constantly have to keep track of what's going on and predict what will happen next.'
Regarding his future plans in aviation, Ivars says he'd like to get additional flight instructor ratings and one day become a captain and move to the left side of the flight deck.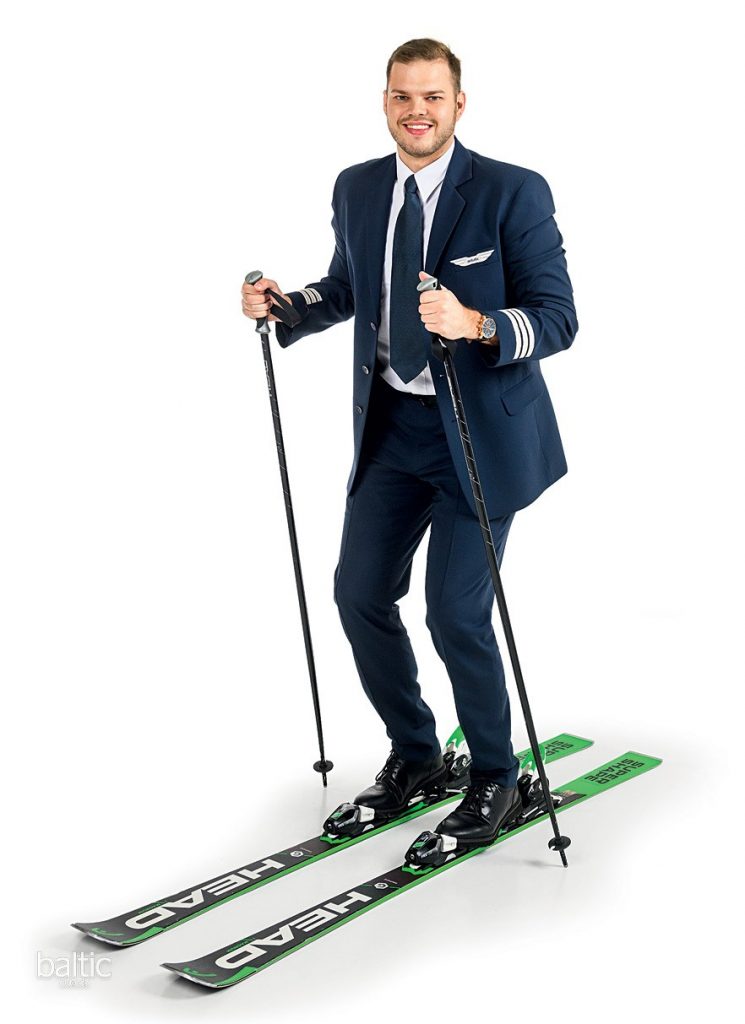 Words by Līga Vaļko
Photo by Gints Ivuškāns (F64)