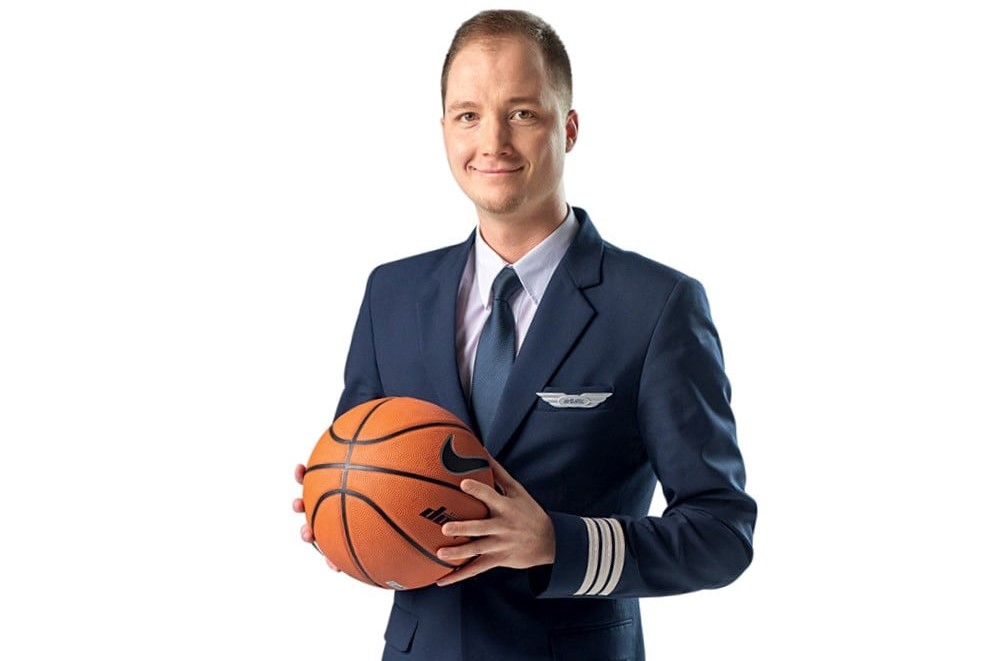 Artis Blumbergs (26),
first officer on Airbus 220-300 aircraft, from Latvia
Baltic Outlook introduces you to some of the most important people at airBaltic – its flight crew members, who have some of the most interesting hobbies.
HOBBY
Artis Blumbergs and his twin brother, Arvis, were five years old when a friend of the family, who was the president of the Riga Basketball School, took one look at the boys and said that they should be playing basketball. With that, Arvis began training in the sport, and Artis joined him soon after. 'My parents say that I was very interested in basketball and kept pestering them that I wanted to play, too,' he says.
And once he began, Artis never left the basketball court. 'At first it was mostly just general physical training. We began learning tactics of the game and other finer points only after we'd begun elementary school,' he explains. 'When I was around 16 years old, I transferred to VEF, which is currently the most successful Latvian basketball team, and played together with the other rookies.'
But in his last year of high school, Artis was injured and realised that it was time to put basketball aside, although he continued playing with friends for fun. 'I knew very clearly that I wasn't going to become a professional basketball player,' he says. 'It was time to concentrate on a profession, and the 15 years I had spent playing basketball had taught me discipline. We weren't allowed to miss practices or games, and at summer camps, with 70 boys of all ages, the coaches needed a very firm hand in order to handle all of us,' he laughs. 'But the coaches also taught us other useful things, such as how to work together as a team, how to behave in society, how to communicate with others, and so on.'
Artis brought his medals along to the photo shoot. Some of them are already quite tarnished, like his very first one, which he and his team received when they won a tournament in Lithuania. Hanging from a ribbon in the colours of the Lithuanian flag, he also calls it his most precious award: 'I was ten years old then. And maybe it's also the most valuable medal because back then we never thought we'd actually win the tournament. We were participating only with the goal of doing our best. But that turned into winning the whole tournament.'
HOW IT ALL BEGAN
'I began thinking about becoming a pilot in high school, when my mother got a job in the security department at Riga Airport,' says Artis. 'At home, we often talked about how her day at work had gone, and I found it all very interesting. We also lived near the airport and constantly heard airplanes flying overhead. So, after graduating from high school, I applied to the Riga Aeronautical Institute. I still have to finish my bachelor's degree, and then I'll also have a diploma in aviation engineering.'
However, Artis earned his private pilot license at Eriva ATO Flight School in Riga. During his studies, he spent two summers as an intern at airBaltic. He spent the first summer in the Documentation Centre, where he was responsible for regularly updating the documentation in the pilots' manuals. Back then, they were paper manuals, and he had to replace the relevant pages. But now the airBaltic flight crew has gone completely electronic and finds all of the information on their iPads.
In his second summer at airBaltic, Artis was introduced to the Operations Control Centre, which monitors all of the airline's flight activities. 'I had no direct responsibilities in this department, but I helped out with everything, which gave me a different perspective on the airline's work,' he says. 'One thing I felt right away was how supportive and open the employees at airBaltic are. They want to do their jobs in the best possible way and are also truly motivated for the airline to succeed. I think that's when I realised that I wanted to make my career here at home in Latvia, work for airBaltic, and become a captain.'
To achieve that goal, in 2018 Artis enrolled in the newly established airBaltic Pilot Academy, graduated with a commercial pilot licence, and got a job at airBaltic. 'I had only flown 75 hours when the pandemic hit, and I was laid off. Now I'm overjoyed to be back on the flight deck,' he says with a big smile.
Incidentally, while studying at the Pilot Academy, Artis also returned to basketball: 'There were several of us in our group who could play some serious 3×3 basketball in the evenings.'