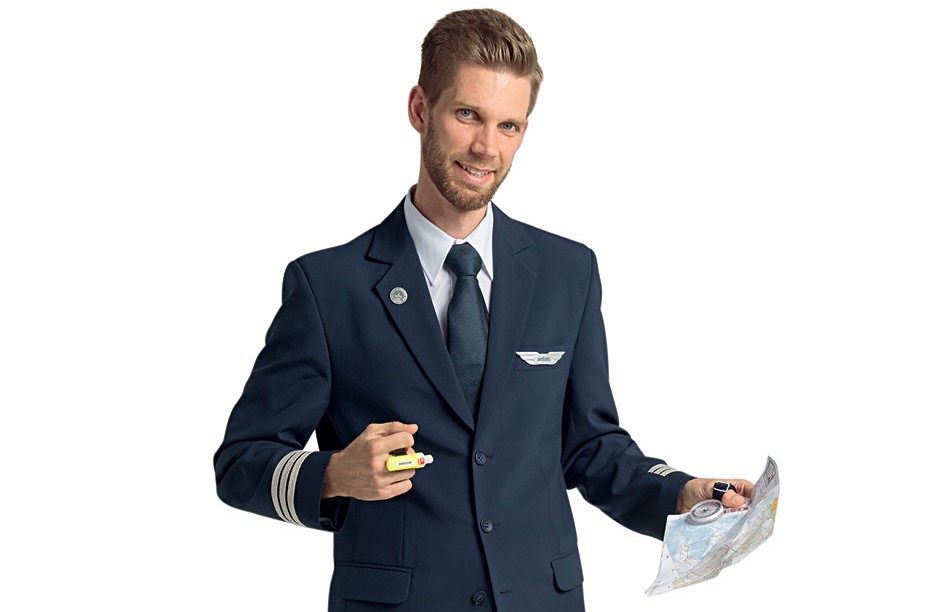 Baltic Outlook introduces you to some of the most important people at airBaltic – its flight crew members, who have some of the most interesting hobbies.
HOBBY
Jānis Leimanis began orienteering while still in school. 'I was lucky to go to a school where we had the opportunity to try out sports that are less well known, such as javelin throwing and orienteering,' he explains. Riga Secondary School No. 90 is close to a forest, which allowed the students to do orienteering in the autumn and spring, and this is what sparked Jānis' interest in the sport.
Later, a friend of his invited him to take part in the Magnēts Orienteering Series, which has taken place in Latvia for several decades. Races are held up to three times a week in the summer and on weekends in the winter, so enthusiasts can take part all year round, both for training and for competitions. 'That's what I like best about this sport, that I can choose my own goal: whether to compete or simply to enjoy being in nature, being active, and at the same time use my mind and think,' says Jānis, adding that he often brings his dog along, too.
The most difficult orienteering courses are definitely those on flat terrain, where there is no distinct terrain and not many landmarks to determine one's location and figure out where to run next. That's when the compass becomes important. What Jānis likes most is running in the glorious forests near the Vidzeme coast northeast of Riga. 'The forests around the airport, where I live, are boggier,' he says.
Jānis continues to do orienteering whenever his schedule allows. 'If my day off falls on a weekday, I take my boots and my dog and go into the woods – that's about all I need. The start opens at 4 p.m., and you can arrive any time after that. You can also choose the distance that suits you.'
However, Jānis had his greatest success in the sport of orienteering during his studies at the airBaltic Pilot Academy. All of the practical classes at the academy take place in the town of Liepāja, and there, Jānis and a classmate took part in the All-Latvian Night Orienteering Competition, which took place simultaneously in eight Latvian cities. The future pilots covered 30 kilometres in four hours during the nighttime and took second place in the competition.
HOW IT ALL BEGAN
Aviation runs in Jānis' family – his father was a pilot for Aeroflot when the Soviet Union still existed, and when Latvia became independent, he worked for Latavio, which took over Aeroflot's operations in Latvia. However, he says he was too young at the time and remembers very little about his father's work. His father took the opportunity to retire early and soon left his job as a pilot. 'But aviation has probably always been with me, in the back of my mind,' Jānis says.
After graduation, Jānis was interested in becoming a pilot in Latvia, but this was not possible. Training abroad, however, was very expensive and did not guarantee any job opportunities. Then, in late 2017, Jānis read in the news that airBaltic was planning to open a pilot academy and decided to apply. 'At first it was just to see how far I could get,' he says with a laugh. 'But I passed the first, second, and then also the third round in the application process, and I realised it might actually work out! It was still quite expensive, but it was a very calculated risk, because I saw that I'd be able to earn that money back. Now airBaltic has developed an even more affordable model for those whose finances would otherwise prevent them from training to become a pilot.'
Jānis was part of the first group of students to begin studying at the airBaltic Pilot Academy. He began his training in Spring 2018, and when it concluded a year and a half later, he immediately began working for airBaltic. He had to take a forced break during the Covid-19 pandemic but has been back at work since October, flying Airbus A220-300 aircraft. 'It's a fantastic aircraft and very comfortable,' he says. 'I feel like it's been designed with a pilot's comfort in mind.'
says. 'I feel like it's been designed with a pilot's comfort in mind.'
Words by Ilze Pole
Photo by Kaspars Krafts (F64)
Jānis Leimanis (33),
first officer on Airbus A220-300 aircraft, from Latvia