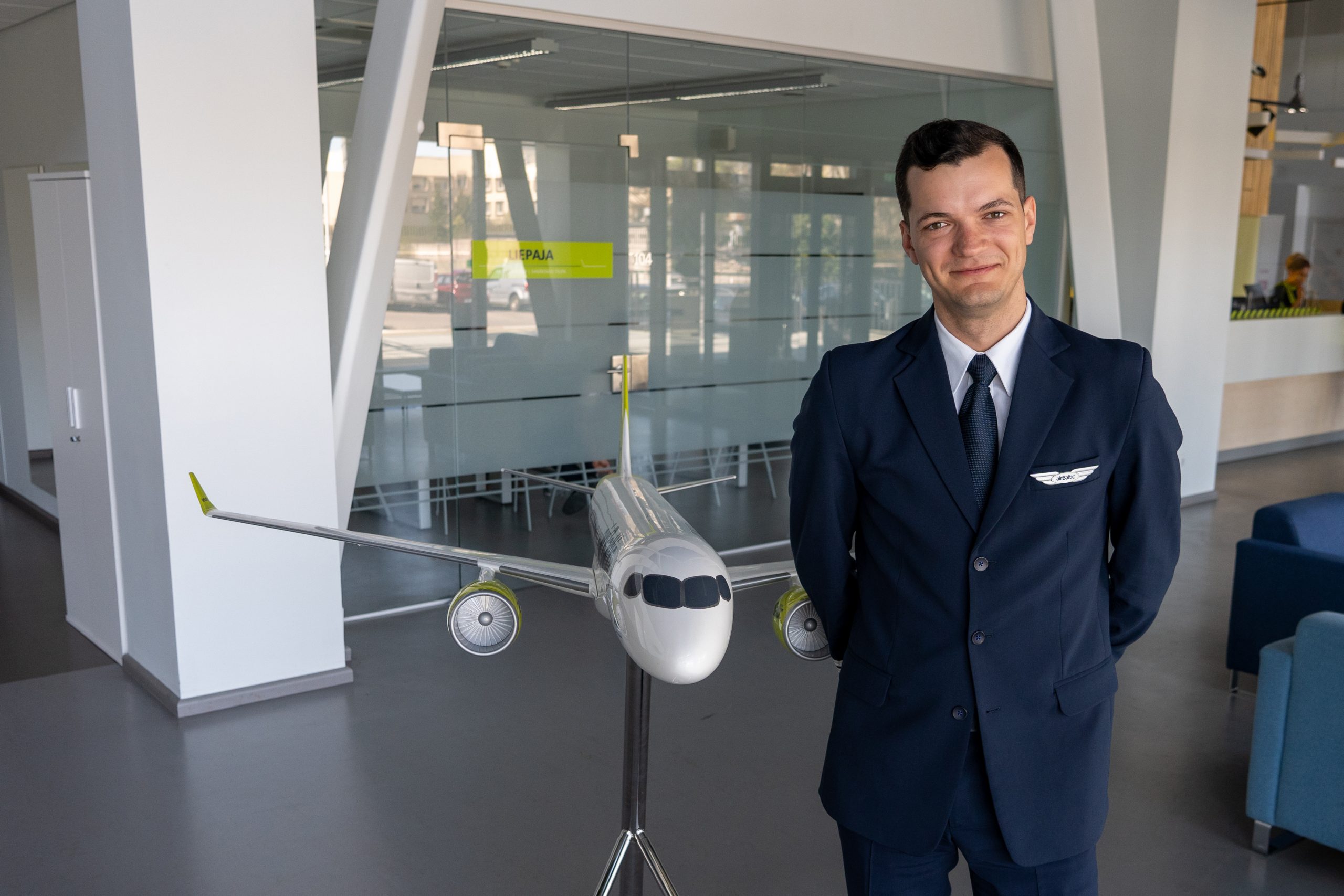 01.05.2023
On May 12 at 1:00 PM (Riga local time), the Latvian national airline airBaltic will be hosting an open day at the airBaltic Pilot Academy. This time it will be led by airBaltic Captain Armands Paupers. During the event, all attendees will have an opportunity to acquire information about the Pilot Academy, its programme and to consult with airBaltic Training representatives.
Armands Paupers started his career at airBaltic seven years ago, joining the airline as first officer. Now already for a year, Armands is flying as a captain! In addition to his pilot responsibilities, he is a theoretical instructor at airBaltic Pilot Academy, already starting from the first group.
The goal of the open day is to inform about airBaltic pilot recruiting; application process, studies, and pilot profession; details on how to prepare a good application and be selected as a cadet; different stages of studies, theory, and practical flight lessons; pilot work-life, salary, and much more. Also, it will be possible to catch the feeling of flying the aircraft in the Diamond simulator.
By marking "Going" on the event on Facebook , each one interested will take part in a raffle with a prize – one hour in the Diamond simulator for two persons.
The event will take place at the airBaltic Training Centre at Riga International Airport, Pilotu Street 6.
There are 75 active students at the airBaltic Pilot Academy at the moment. Most of them are from Baltic countries, however, there are students also from other EU countries such as Germany, France, Finland, Spain and Italy among others. More than 9% of airBaltic Pilot Academy students are female. As for now, 78 students, after graduating, have joined airBaltic.
Since May 2022, airBaltic Pilot Academy has improved the payment structure for its commercial pilot study programme. As of now, after successfully passing the company's assessment, airBaltic will finance a significant part of the studies.
Students of the airBaltic Pilot Academy will now have to cover the costs of studies until obtaining a private pilot licence level, costing EUR 25 000. After passing airBaltic pilot assessment and becoming an employee of the company, the airline will provide financing for the rest of the studies.