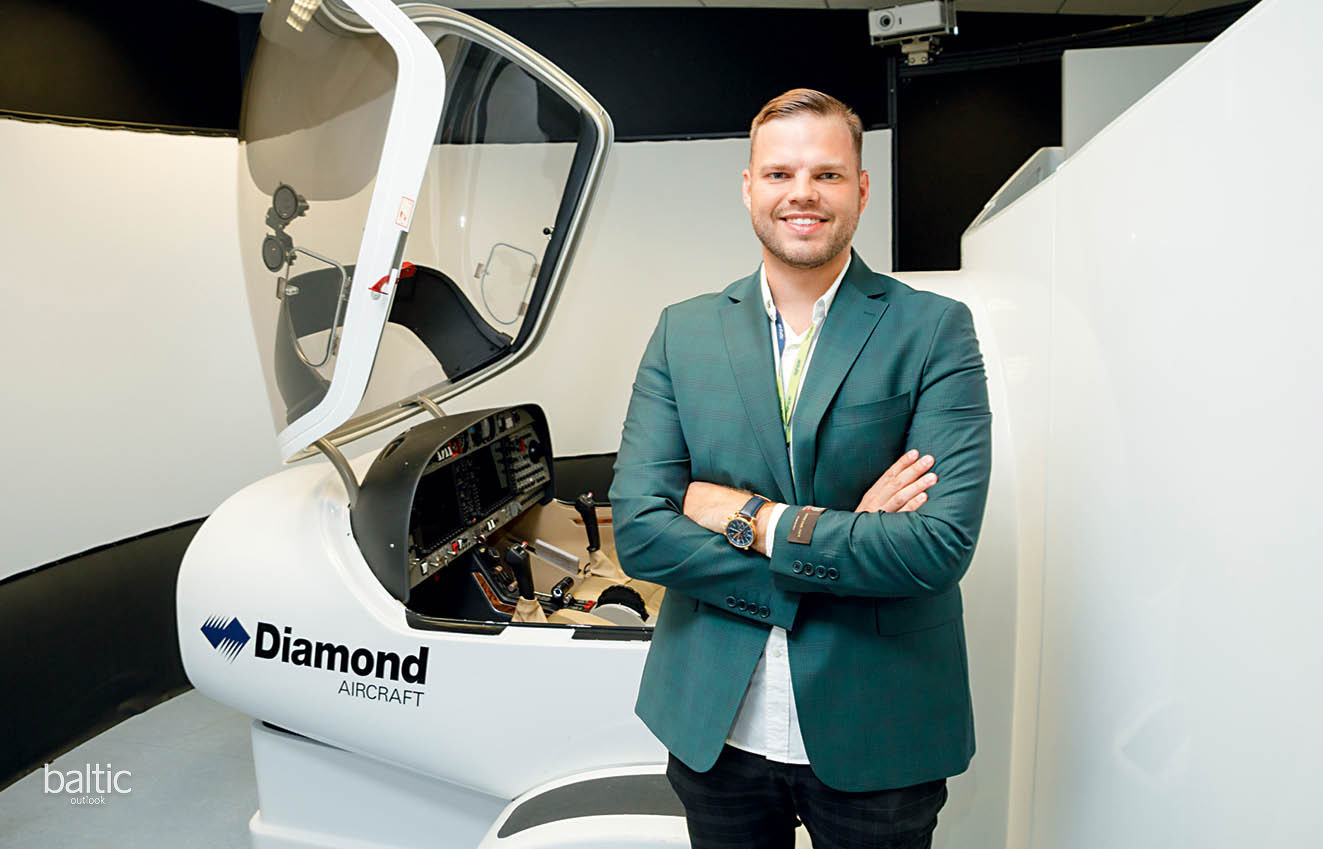 This September, 14 students started their pilot training at the airBaltic Pilot Academy (PA), and the next group will start in November. Ivars Puļķis was a student in the academy's very first group. That was back in 2018. Two years later, he began flying for airBaltic as a first officer. When the pandemic hit and many pilots temporarily lost their jobs, Ivars applied for a PA instructor vacancy – now he continues flying for the airline and also trains new pilots.
This Diamond aircraft simulator is your second workplace. What exactly are your responsibilities at the airBaltic Pilot Academy?
Yes, simulator training is part of the training programme for new pilots, and I spend a lot of time with the students here. I'm also a flight instructor in Liepāja, where their actual flight training takes place at the airport. I also teach theory: instrumentation, meteorology, general navigation.
When I was temporarily laid off from my job at the airline due to the pandemic, there was a vacancy for an instructor at the airBaltic Training Centre, which I applied for. It's possible to earn an instructor certificate through the Training Centre, and so once I had that, I began working there along with seven other new instructors. Now I spend about half of my time flying for airBaltic and the other half working here at the airBaltic Training Centre.
Had you already been interested in teaching and training new pilots before you began working as an instructor?
Yes, the idea of becoming an instructor came to me while I was still studying at the PA myself. But my priority was to start flying for airBaltic. I had to stop flying for a while due to the pandemic, but as soon as the opportunity to teach arose, I took it.
I had to go through special training to get my instructor certificate. One of the courses was 'Teaching and Learning', which taught us how to teach. That was very interesting, and we got a lot of useful tips and tricks. For example, in how much detail to tell a student about the tasks to be done in the pre-flight briefing or during the flight to maximise the student's progress. Or, another example: during a debriefing, in how much detail to tell students about their mistakes so that they're able to perceive what is the main problem, error, or shortcoming in their performance.
I had already noticed that I was good at teaching. I have a much younger brother – we're 13 years apart in age – and when he started school, I realised that I liked helping him with his schoolwork. My hobby is skiing, and I've taught three members of my family to ski. I like to teach technical, schematic things that you can visualise.
What are the things that excite you most about this job?
First of all, I find it interesting to initially assess the students and identify the different psychological types and what approach will help them make the most progress. They shouldn't be stressed out by my requests and the tasks I give them; instead, I want the students to be open-minded and to find learning exciting and enjoyable. But at the same time, they need to understand how responsible and serious this work is.
It gives me great satisfaction to see students get the hang of flying after the theoretical training. There was one striking example in Liepāja. I was flying with a student who had difficulty landing the plane. I tried all sorts of approaches until I finally found a way to show him how to do it, and he succeeded. What a great joy and satisfaction! This student is now also working for airBaltic as a first officer.
I teach my students with the idea that I'm training my future colleagues, and my motivation is to help my students achieve the best they can. Their achievements give me pleasure, too.
And what did you learn from your instructors during your own studies?
Actually very much. And I've taken something from the experience of each of my instructors to become the instructor I am today. Already as a student, I would observe which teaching approach worked best for me and what worked best for my classmates. I recently noticed that I now try to explain especially well to my own students precisely those things that gave me trouble when I was studying in the academy myself (laughs)…and then it turns out that they understand everything right away.
When I started studying at the PA, it was a very new project for the airline. Many of our instructors were company pilots, their teaching approaches differed, and the guidelines hadn't all been worked out yet, like they are now. But I really appreciate every instructor I had, because every one of them contributed to me becoming not only a pilot but also an instructor. Although there are procedures in place, similar to those for captains on the flight deck, instructors' approaches nevertheless differ. I've found that the most effective method is to initially take in all the advice you're given and then develop your own approach – one that works best for you.
I say the same to students, too, if they remark that another instructor has shown them how to do something differently. I say: in that case, evaluate what works best for you. Because I'm not saying another instructor's approach is wrong; this is simply my suggestion on how else you can do it.
How does simulator training work?
What I like about simulator training is that you can stop the 'flight' and explain something immediately. In aircraft training, there may not be enough time for that – everything happens quickly, and everything is new to the student. Simulator training starts with simple maneuvers, which usually don't worry the students because they've already flown a plane in Liepāja for at least 40 to 50 hours.
Then I gradually start adding new things and new challenges, and then the simulated flight does indeed have to be stopped and explained. As a student's simulator hours are coming to an end, I tend to add some special challenges, such as the displays suddenly shutting down or some other unusual situation. In those cases, it's not so important for me to see what solution the student applies; more important is the student's reaction and thought process. That is, the student should not panic, so as to not make any hasty, ill-considered decisions.
And how do you feel when you're undergoing your own regular simulator checks?
It's an extra responsibility for me. I teach others, so I definitely cannot make any mistakes myself (laughs)!
How did you decide to become a pilot? What's your story?
It began on a trip with my family, the first time I flew on a plane. Both the flight and the atmosphere of the airport made a very big impression on me. As my final high-school exams approached, I started thinking about what I wanted to do in terms of a career, and becoming a pilot was one of my choices.
However, the airBaltic Pilot Academy had not yet been established, and my family's resources were limited. I started my studies at another flying school, and at the same time I studied construction at the university in Jelgava and worked at a building design company. But when airBaltic opened the PA, which also offered bank co-financing opportunities, that was very welcome news and I took advantage of it. I had to interrupt my studies and my job, because the program at the PA is very intense, especially the first four or five months. But I'm still determined to finish my degree at the university; I have one year left.
The PA has now become even more affordable, because airBaltic provides a company loan for most of the training and also guarantees job opportunities. What are the new students like?
The selection process for studies at the PA is quite serious. Unlike at other pilot schools, where training is open to all who have the desire and the means, and thus the differences between students are more pronounced. The level of training at the PA is high, and the students are similarly selected in terms of motivation and ability, so that their average level is both very high and similar.
And yes, if a student performs well, the company will offer them a job. I'm happy that foreign students also choose to come and study in Latvia and that the PA has such a good reputation. At the moment, there are very, very few offers in Europe like the one airBaltic has developed.
And one more thing that makes me happy: more and more of my students are now becoming my colleagues! On a recent flight to Baku, the previous crew, from whom we took over the plane, included one of my former classmates at the PA. And once we got to Baku, the crew that took over the plane from us included one of my former students. Those are pleasurable moments.