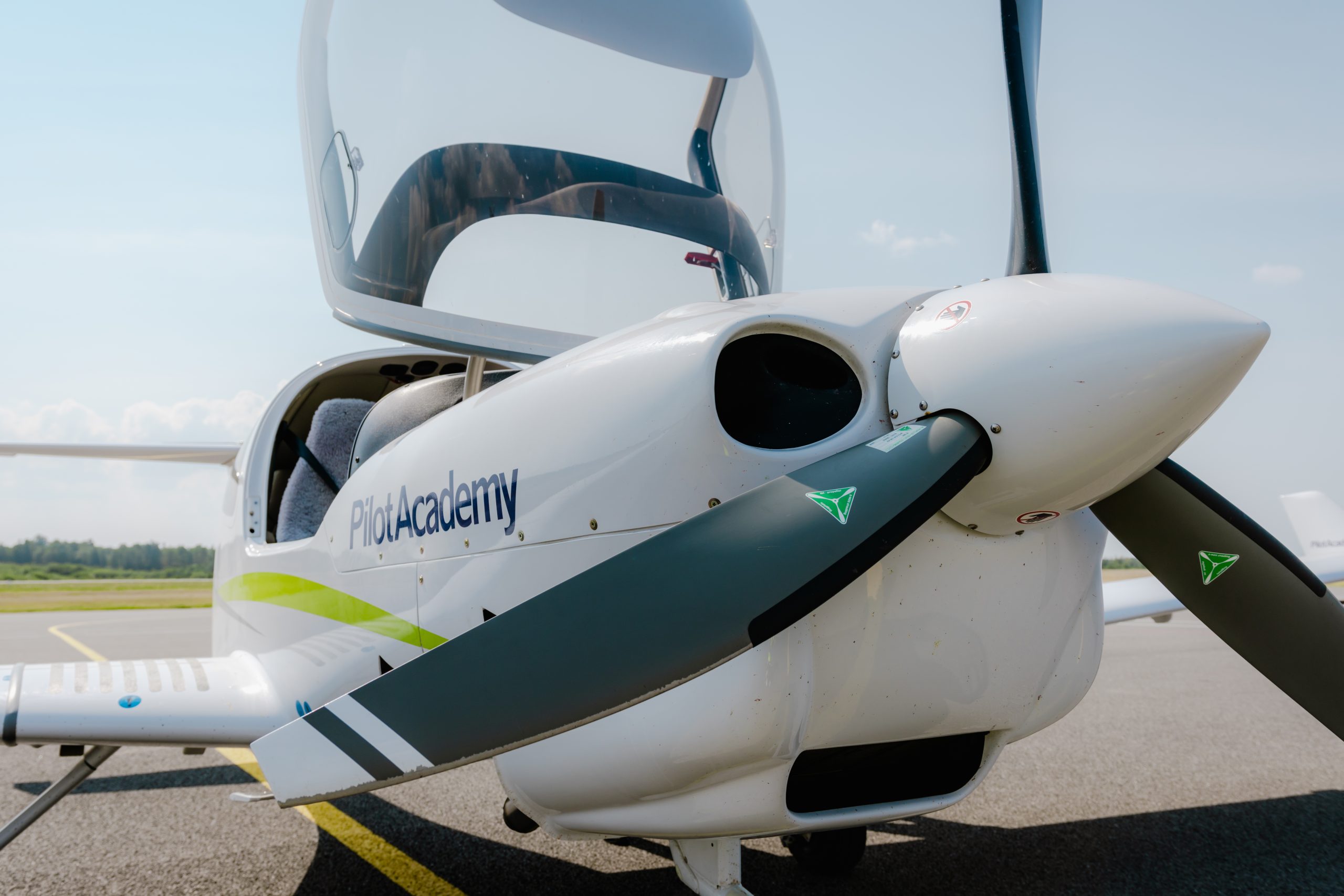 20.07.2023
As the time when high school graduates submit documents for further studies has begun, great interest and demand can be observed at airBaltic Pilot Academy. While applications are accepted throughout the year, and new study groups are admitted four times annually, the summer months have marked an exponential increase. Namely, the academy now receives around 40 applications on average per week. The 19th and 20th group of students will begin their professional pilot studies on September 4 and November 6, respectively.
Jose Antonio Raga Orellano, Deputy Head of Training airBaltic Pilot Academy: "Summer is a gateway of opportunity for prospective students, offering an exceptional chance to embark on a journey like no other. Moreover, the optimal time to seize this opportunity is right after high school, when all the knowledge is still fresh. Therefore, we actively encourage aspiring individuals to make the most of this moment and submit their applications at airBaltic Pilot Academy. Moreover, highly-trained personnel is one of the key factors of successful operations at any airline. The academy has prepared skilled aviation professionals since its establishment in 2017, with 100 active students currently pursuing their dreams here."
Most of the current students of the Pilot Academy are from the Baltic countries, while also other EU member states, such as Austria, Germany, France, Finland, Spain, and Italy are represented. Overall, more than 10% of airBaltic Pilot Academy students are female. As for now, 78 students, after graduating, have joined airBaltic as First Officers.
Since May 2022, airBaltic Pilot Academy has improved the payment structure for its commercial pilot study program. As of now, after successfully passing the company's assessment, airBaltic will finance a significant part of the studies.
Students of the airBaltic Pilot Academy will now have to cover the costs of studies until obtaining a private pilot license level, costing approximately EUR 25 000. After passing airBaltic pilot assessment and becoming an employee of the company, the airline will provide financing (loan) for the rest of the studies.
On the first Friday of each month, special Pilot Academy open days are being hosted. During these events, which happen alternately both remotely and on-site, attendees have an opportunity to get a detailed information about the Pilot Academy, its programme, study process, pilot profession and to consult with airBaltic Training representatives on how to prepare a good application and be selected as a cadet, and much more. In addition, it is possible to catch the feeling of flying aircraft in flight simulator.
airBaltic in brief:
airBaltic connects the Baltic region with over 70 destinations in Europe, the Middle East, and the CIS. Over the last 27 years airBaltic has developed as a strong, profitable and internationally respected airline, which employs around 2 300 employees. airBaltic is by far the best known international brand of Latvia and responsible for more than 2.5% of the Latvian GDP. airBaltic operates 41​ Airbus A220-300 aircraft. airBaltic has received numerous international awards for excellence and innovative services. Skytrax has awarded Latvian airline airBaltic a five–star COVID-19 safety rating. In addition, airBaltic is one of the Top twenty airlines for COVID-19 compliance by the safety, product, and COVID-19 rating agency Airlineratings.com. In 2018 and 2019 airBaltic received the ATW Airline Industry Achievement Award as the Market Leader of the Year. In addition, in 2019 airBaltic received Sector Leadership Award by Airline Business. airBaltic is a joint stock company that was established in 1995. Its primary shareholder is the Latvian state, which holds 97.97% of the stock, while the rest of the shareholders hold 2.03%.
airBalticTraining, a subsidiary of airBaltic, is a training facility offering a wide range of aviation training services in its modern and purpose-built training centre in Riga, Latvia. It was established in 2010 and since then each year provides training to approximately 3 000 professionals from across the world – more than 1 500 pilots, almost 1 000 cabin crew members and several hundred of ground handlers, cargo agents, security personnel and others.