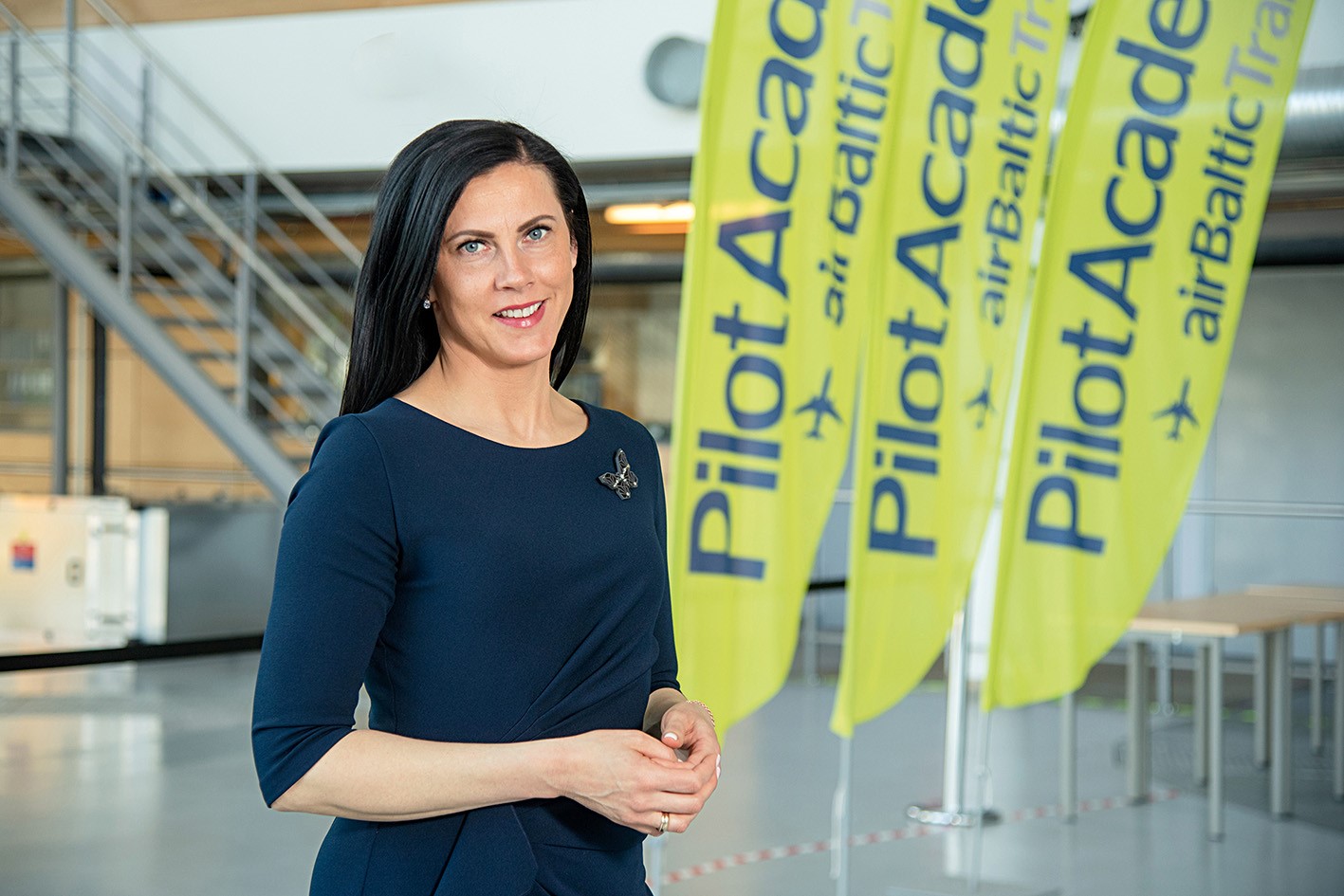 BEHIND THE SCENES / June
Words by Ilze Pole
Photo by Kaspars Krafts (F64)
Anta Zvilna,
Administration manager at the airBaltic Training Centre and Pilot Academy
In April, the airBaltic Pilot Academy announced that it had developed a special funding model for its commercial pilot training programme. This will allow students for whom finances have been a barrier to accessing the Pilot Academy to join the programme. Baltic Outlook met with Anta Zvilna to talk about the new funding model and the training process at the academy.
The Pilot Academy is part of the airBaltic Training Centre, which was established quite some time ago.
Yes, this subsidiary of airBaltic was established in 2010 to meet the airline's training needs for flight attendants and pilots. At that time, we still had a Boeing 737 simulator here. The new Airbus A220-300 simulator was inaugurated shortly before the Covid-19 pandemic began.
Nowadays the simulator is in use more or less 24/7, and this is, of course, due to the growth of the airline after the pandemic. Pilots who were laid off due to the pandemic are returning to work, new pilots are being recruited, and we also conduct the regular, annual sim checks for our existing pilots here.
The simulator is also used by Pilot Academy students, right?
Yes. The idea of a separate pilot school was conceived by airBaltic management six years ago, and the academy officially opened in April 2018. The main goal was to provide the airline with pilot resources and give local people the opportunity to obtain a commercial pilot licence. There are other flight schools in Latvia, too, but none of them offer full-time, on-site training. airBaltic also has excellent pilot-instructors – professionals who can pass on their knowledge.
We also established the Diamond aircraft hangar in Liepāja and were able to restructure successfully during the pandemic. The academy has a total of 112 students, 71 of whom are from Latvia. That was also our goal – to create and offer the opportunity for as many local people as possible to become pilots. And now with the new tuition model, I hope we'll have even more students.
The high cost of flight school often prevents potential students from even thinking about the profession and taking the initiative to apply.
You're right. People often give up their dream of becoming a pilot when they learn about the costs involved. Our training programme at the airBaltic Pilot Academy is accredited by the Civil Aviation Agency (CAA), which represents Latvia in the European Aviation Safety Agency (EASA).
Initially, we also worked with financial institutions that supported the idea and provided student loans. But even so, students have had to co-finance part of their education, which will certainly continue to be the case, because it also serves as a motivating factor. However, we've had a number of applicants who successfully passed the whole selection process but, realising that they could not come up with the funding, unfortunately did not begin their studies. What's even more unfortunate is that they really do have the potential, or, as I call it, the 'butterfly potential' – the daring and spirit to dream, to believe in themselves, and to actually begin flying.
How did you arrive at this new model?
It seemed that there would be plenty of pilots available on the market after the Covid-19 crisis, and to a certain extent that has been true. But aviation was very deeply affected by the pandemic. Pilots were prepared to wait it out for a while – a few months, a year – but eventually they had to get on with their lives and come up with other ways of earning money. Many returned to their countries of origin or switched to other kinds of work. So the pool of potential candidates shrank.
We had three groups of students – a total of 20 people – begin their training at our academy during the pandemic. But this is a relatively small number, and we wanted to find a way to encourage others to see the 'butterfly potential' in themselves and apply to the programme. Other airlines also started offering airline-sponsored training programmes. Our management was deeply convinced that this model could indeed be introduced at airBaltic as well, giving the opportunity to those who wanted to train but could not afford to do so.
How does it work?
After passing the selection process, which is carried out by airBaltic professionals together with a clinical psychologist, students pay a down payment of EUR 15,000 and begin their training. The first six to nine months consist mostly of theoretical training and a series of exams. Students also have to make their first solo flight during this time.
After that, each student is assessed individually, taking into account their performance, attitude, and discipline, and a decision is made as to whether they qualify for further training financed by the company. By that time, however, the student has already reached the PPL (private pilot licence) proficiency level.
If the decision after the assessment is positive, airBaltic bears the cost of further training. This includes additional theory courses, simulator flights, dual flights, and also a unit on aerobatics. After successfully completing this training, the student obtains a commercial pilot licence.
How is the training reimbursed?
The airline expects that the pilot will work for airBaltic for five years after completing his or her studies. This funding model is designed to ensure that pilots in whom the company has invested significant financial resources stay with the airline for a longer time, while also giving them the opportunity to grow and develop.
You mentioned airBaltic's experienced pilot-instructors. Do they also teach at the Pilot Academy?
Ninety percent of the instructors in our academy are airBaltic professionals, including experienced pilots who are still actively flying with the airline as well as former students who, having reached a certain level of proficiency, are able to do some of the practical training of future pilots. In a sense, they're educating their future colleagues, and they're doing so at the highest professional level possible. They've been specially trained to pass on their knowledge in a structured, understandable way.
I've heard new graduates of the Pilot Academy praise the practising instructors as a great asset, because during training they talk about real situations they've experienced.
Yes, it's a great benefit, because the trainers share their own experience. In many respects, we're one step ahead of other programmes in that we have a simulator here on site and we have our own training aircraft that are exclusively available to our students exactly when they need them.
The course lasts one and a half to two years, which is a relatively short time. But that's because it's full-time, on-site study and training. After obtaining their commercial pilot licence, new pilots also need to pass an Airbus A220-300 type rating – that is, they have to learn how to fly that particular type of aircraft. But otherwise it's not rocket science. From the outside, it sometimes seems like an unattainable goal, but it's actually a very structured, logical, and controlled process.
What do you expect from potential applicants?
First of all, a desire to do something and try to achieve a dream. Second, we want people who are highly motivated to learn, because a pilot's career is in fact a constant learning process. Pilots take simulator tests twice a year, which means they have to constantly maintain a high level of knowledge. Aviation is a very dynamic field, with new technologies and procedures being introduced all the time.
There are many things you can practise and learn – mathematics, physics, English, psycho-emotional resilience – but not motivation. So, we want people with the desire to grow and develop. People who are always motivating and challenging themselves. If you're having difficulties with the training process but you have this internal motivation and a supportive environment, then you'll succeed and be able to move forward.
How long have you worked at airBaltic?
Eighteen years this May. I began as a flight data administrator but quickly realised I wanted to do more, so I joined the crew planning division, which plans crew schedules. Back then, we still used a pencil and paper and Excel spreadsheets.
When the company was looking for a crew training manager, I took up the challenge, and later I became the training product manager at the airBaltic Training Centre. There I helped with the establishment of the IATA Regional Training Centre and the provision, coordination, and organisation of IATA courses in the region.
By the way, we had a programme in 2010 that attracted European Union co-funding and gave many motivated young people the opportunity to become pilots. I was the project manager at that time, and the students who took advantage of this opportunity are still flying with airBaltic and have already become captains. Since 2011, I've been the administration manager at airBaltic Training, and I'm also on the Pilot Academy project team.
You probably know all the students at the Pilot Academy by name.
Yes, and I know everyone's story as well. Our strength is that we're able to reach out to everyone individually and try to give them all the support they need. Five days of training at school, and then you have to continue studying over the weekend because, for example, there might be a test on Monday. The training is intense.
The most beautiful and satisfying moment comes at graduation, when we see that a student's dream has finally come true!
---
Source of publication — Baltic Outlook inflight magazine